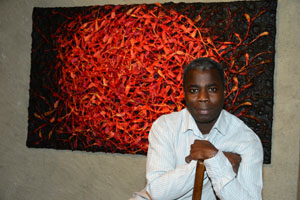 "nature at your fingertips"
when matter comes to life
Born in 1964 in Divo, Ivory Coast, Rock Raymond Ligué grew up in a family of eleven children. At the age of 20 he got the opportunity to come to Lausanne, Switzerland. "I wanted to be alone in a new place and create with what's around me, a quest of inner peace, perhaps ». After studying at ECAL (Ecole Artistique Lausanne), Rock Raymond Ligué went on to get a Diploma in Secondary School Art Teaching. « My mother wanted me to get a real job offering financial security, and a professional future. » Although Rock Ligué is passionate about teaching, he always dreamed of exhibiting his work in art galleries and museums all around the world.